Cenotes & Adventure
The Yucatán peninsula is also well known for its water activities, both in the Caribbean sea and in the cenotes, which are natural freshwater pools underwater caves and caverns that make a great place to swim, snorkel, or scuba dive.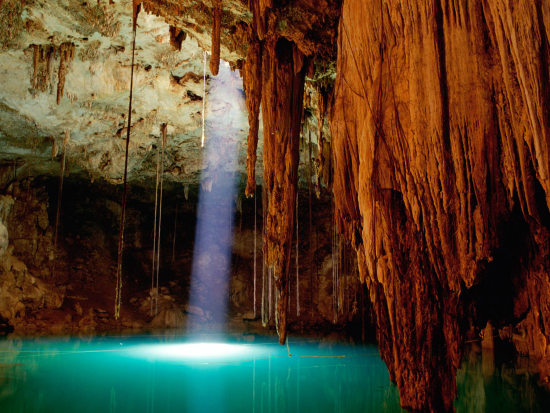 Many tours include visits to cenotes seeing as they are a top attraction of the Mayan Riviera.
If you want to combine the Tulum ruins with a cenote, you can opt of Tulum Xtreme. Get a guided tour of the famous cliff-side ruins and also get a visit to the Xtreme jungle ranch where you can zip line, rappel, and snorkel in an amazing cenote filled with stalactites and stalagmites.
Right outside Playa del Carmen, you will find Rio Secreto. Even if you are in Tulum, you can get round trip transportation for this experience. The Rio Secreto Expedition allows you the opportunity to explore this underworld while walking and swimming through the tunnels. The rock formations are impressive, the adventure unforgettable. This tour is only a few hours so a good option if you don't want to devote the whole day.
If you are a little more adventurous and want to say away from the organized tours, you can take the collectivos that run up and down the highway. There are several cenotes between Playa del Carmen and Tulum, just ask the driver to stop at one. Pay the fees at the entrance (these vary depending on the cenote) and explore away.
Book Now – Call 1-888-537-9797
We're here to help you get the best deals.