Mayan Ruins
Even if you are not a history buff, the ruins will take your breathe away.  Imagine having made all of these pyramids and structures without the use of any modern tools we have access to today?
There are hundreds of Mayan ruins throughout Mexico, Belize, Honduras and Guatemala, but the Yucatan Peninsula (where Tulum, Playa del Carmen and Cancun are) have some of the most impressive ruins.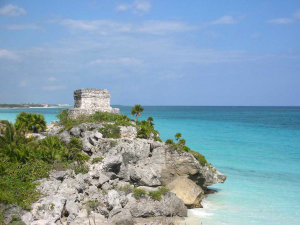 TULUM
If you are staying in the Tulum area, visiting the Tulum ruins will be easily done by taxi or even by bicycle. If you do want to combine  the Tulum ruins with other activities and make a day of it, you do have a few choices.
The Tulum ruins are the only ones built by the sea, so wear your swimsuit and head down to the beach for a refreshing dip.
PlayaDelCarmen.com has more information about Tulum excursions options.

COBA 
Is about a 30 minute ride north-west of Tulum and about 1.5 hours from Playa del Carmen and well worth the visit. Unlike most archaeological sites on the Yucatan Peninsula, Coba is in the middle of the jungle and a totally different experience. You can still climb the main pyramid, Nohoch Mul, the highest pyramid in the Yucatan Peninsula.

CHICHEN ITZA 
Best known as it is one of the Seven Wonders of the Modern World. Count on a long journey (2.5-3 hours each way) but well worth it for this incredible site.
See the Chichen Itza tour details for more information about Chichen Itza excursions.


EK BALAM  
A lesser known site of ruins not far from Chichen Itza. You can still climb the main temple at Ek Balam. You will want to check out the wall paintings in the Acropolis building. Only the center of this site has been excavated so far, so new discoveries are still being made.