What do you expect when you hear "world's largest natural aquarium"? Well, it's not Wet N Wild or Sea World, it's Xel Ha. I think you could say it's a snorkeller's Mecca.
Calling all water babies to Xel Ha. If you want to spend the day with water-based activities and all inclusive food and drink this is the spot for you…
We spent the day at Xel Ha, and were not disappointed.  As you check in, you get a bracelet that allows you "all-inclusive" access. This includes, the buffets and other restaurants and the bars. Yes folks, you get access to all day alcohol, but keep in mind that you are best to stay afloat so don't indulge too much. You also your equipment and access to the facilities: snorkel equipment ($25 security deposit per person), a free new snorkel tube, towels, lockers, changing rooms, showers,  inner tubes and life jackets.
Activities such as the lazy river, the cliff jumping, the bicycles, zip lining, and the snorkelling are all part of your package.
They do have optional activities that do have extra charges such as: dolphin swims, manatee and stingray encounters, Snuba, Sea Trek, a spa and the zip-bikes.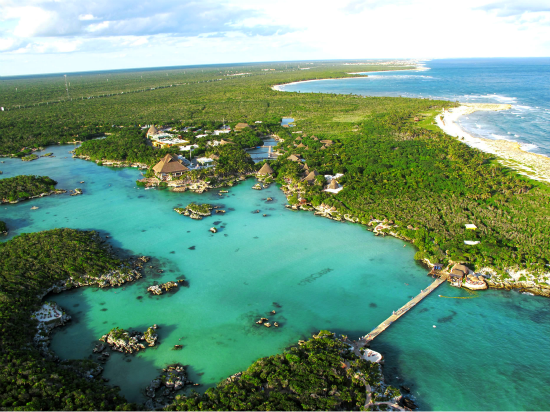 1st Tip
Biodegradable sunscreen. It is mandatory at the park so make sure you have some or you can get some on site. Do your part and be green, people.
Our first stop: breakfast. There are a few buffet restaurants on site, but we opted for the main one in the center of the park. Two-story, lots of seating (no wait!) and a large, varied buffet. Energized with food, we headed out, in the direction of the lazy rivers.
2nd Tip
Right next to the main buffet building, you have lockers, towels and equipment. We signed out our equipment right away, but then had to carry it around. There are several other spots for equipment, including one at the entrance of the lazy river, so you can wait if you wish.
We opted for the train to the top as we had too much equipment to be taking the bicycles. They do have child sized bikes, if need be.
3rd Tip
On the walk to the train, right before a bridge, there is a feeder there where you can get dried food to feed the fish and birds. My son could have happily spent the day there and done nothing else.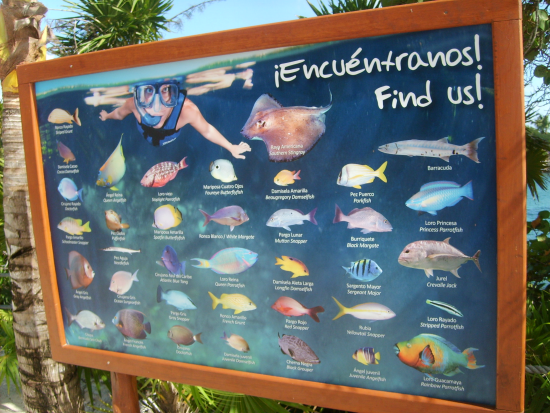 Once I managed to pry my son away, we headed to the entrance of the lazy river.  You can bring your belongings (shoes, clothes etc.) and they will put them in a lock bag that you can collect at the bottom. You can also get life jackets here (they have every size) and then grab your  single or double inner tube.
4th Tip
The "lazy" river is just that. It is not doing any of the work getting you down it, you will have to work to get yourself down (holy abs!). I ended up putting my fins on my hands and paddling that way. **Check it out, it's Cesar Milan! and he is paddling with his hands!**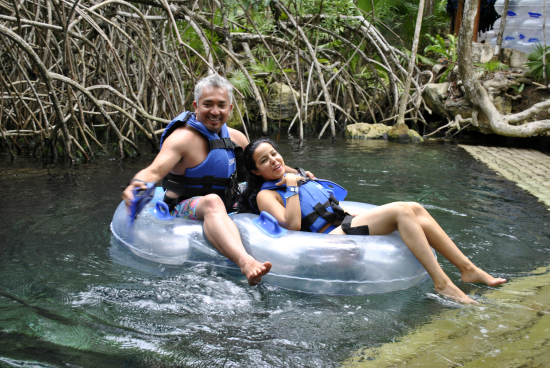 On your way down, you will encounter the cliff jumps, the zip lines, and tons of snorkeling spots. You can ditch your inner tube at any point and either swim down, or walk back down the path. While we were snorkeling we saw tons of fish, very varied, lots of colors. The park claims to have over 90 marine species, I can say that we easily saw 35-40 different types of fish.
Lunchtime. Again, really pleased with the food. This time we checked out the more "Mexican"buffet. Good stuff, lots of choice, fresh fruit and veg.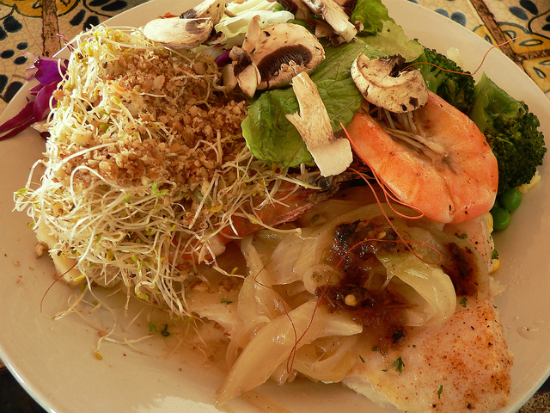 After recharging our batteries, we headed down the other way towards the floating bridge. I think this is where we saw the largest fish and we even spotted a stingray.
5th tip
Even if you are not an avid snorkeler, there are lots of things to do.  Eat, drink, swim, glass bottom boat, hammock garden (can you say heaven?), zip line, lazy river, bicycle ride, swim with dolphins ($), rope bridge, floating bridge, cenote, kayak, and then eat and drink some more…
All in all, we thought that Xel Ha was a great day. Fun for the kid, and fun for the grown up.
KIDS: Kids under 5 are free with ID. Kid's between 5-11 are 1/2 price. All equipment is available in kid's sizes.
WHEELCHAIR:  There is a wheelchair rental service on site and the park offers a hydraulic chair for access to the rivers.  You can access a map which outlines what parts of the park are accessible.
BOOKING: Get your Xel Ha Entrance with Transportation.
You can also choose to combine Xel Ha with a visit to the Tulum ruins.
This is a good option if you are only in the area for a short time, you can pack in two main attractions in to one amazing day.