Coba Ruins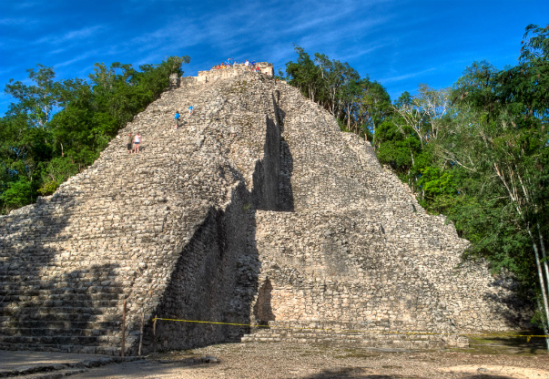 The Coba ruins are located about 45 minutes from Tulum along a quiet highway through the jungle and are well worth visiting.
The ruins are located near the pueblo of Cobá, which has developed around a beautiful quiet lagoon. There are several small restaurants with open terraces with a view of the lagoon where you can have breakfast  or lunch when visiting the ruins.
The ruins are located in the jungle and are quite spread out. Coba is thought to have has over 50,000 inhabitants during it's heyday around 750 B.C. The total site spans about 31 miles (50 km) but your during your visit, plan to walk at least 2-3 miles (4-5 km) to see most of the sites. If you prefer not to walk, they have bicycles for rent, or you can rent a bicycle taxi and sit back while the "driver" bikes you around the site.
The main temple is Nohoch Muul, and stands at 138 feet (42 meters) high. If you are brave enough to climb the 120 steps to the top, the spectacular view is a reward in itself. Coming down is not as easy as going up, and you may have to come down on your bottom step by step like a toddler. Don't worry, you won't be the only one.
Bring along a bottle of water and some biodegradable bug spray, wear comfortable shoes and bring your camera.
You can plan a visit to Coba, with a stop in a Mayan village, and a few fun activities such as a swim in a cenote, zip lining and rappelling with the Coba Mayan Encounter.
If you want a more cultural based day, opt for Coba  Maya Ville. In addition to your visit to the Coba Ruins, you will visit a Mayan Village, where you will meet some locals and see how they are adjusting to modern day life.
Private tours are also available if you prefer and if you are 4 or more, they are even more economical than your standard bus tours, and much more fun.
Want more information or want to book? Contact us 1-888-537-9797.