Tulum Information
Tulum offers the perfect combination of total relaxation, tranquility and seclusion, yet can fill your day with the many interesting and rich activities in the area.
You will find Tulum about 1 hour drive south of Playa del Carmen and only 25 minutes south of Akumal.
Tulum can be separated into 3 areas: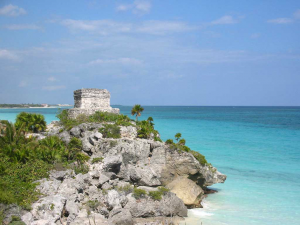 The Tulum Ruins will be found on the main highway as you head south to Tulum.
The can be accessed by walking, bicycle or taking a taxi. Once you arrive to the ruins, the entrance fee is minimal, about 5USD per person. You can explore the ruins on your own, hire a certified guide, and head down to the beach below to cool off.
If accessing the ruins from the main road, they do have a flea market area for souvenirs and snacks.
If you want an organized tour of  Tulum, you can find a list here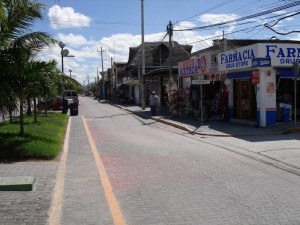 Tulum town is a little further down the same road and is slowly developing. According to the 2010 census, the population in Tulum was just under 20,000 inhabitants.
The town itself is about 3 miles from the beach.
Here you can find a selection of small hotels, restaurants, and shops. Like any town, there will be banks, pharmacies and other useful things like car rental, a medical clinic, and convenience stores.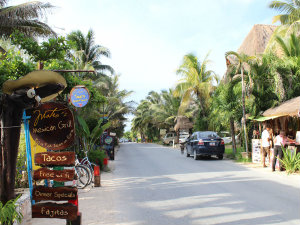 The Tulum beach strip is a small road that runs the length of the beach and leads you to the arch, which is the access to the Sian Ka'an biosphere. You can find accommodation on both the beach side and across the road. This area has a very relaxed, bohemian feel to it. Almost everything is accessible on foot in the main area, and bicycles are available for rent.
Accommodation will range from camp sites to budget and luxury cabanas.
The beach is public the whole way along and you can find many options where you can dine or enjoy a drink with the sand between your toes.
If you are looking for all inclusive resorts in Tulum, you can find a list here, although the resorts will range anywhere from 3 to 15 miles (5 to 20 kilometers) from Tulum town itself.