Playa Chemuyil
A very intriguing concept for this part of the peninsula, Playa Chemuyil is a snorkeling and swimming beach that charges an admission – about $2 USD – even though all beaches in Mexico are free). What you're paying for are amenities and the care of the powder-white beach area. Protected by a reef across the entrance to the horseshoe-shaped cove, Chemuyil claims to be the 'most beautiful beach in the world.' We might agree if it were not for the devastation the lethal yellowing disease has inflicted on the coconut palm trees in the area. Playa Chemuyil features restrooms and showers, a medical clinic and a palapa-covered restaurant, Marco Polo (no phone), that serves delicious low- priced Mexican and Yucatecan seafood cuisine.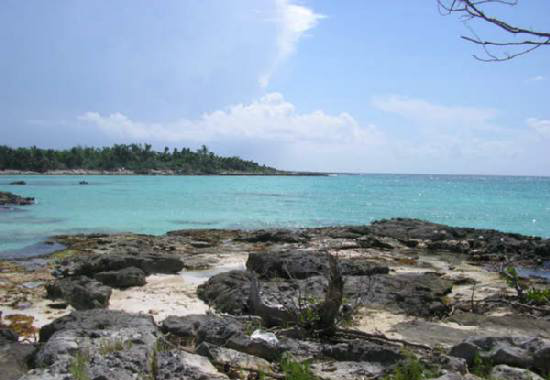 On the south end of the beach there's a camping area that includes thatched hut caba¤as for hanging hammocks and spaces for trailers (there is no electric). Very clean and well run. There's a six-kilometer dirt road along the old coconut plantation good for hiking as far as Xel-Ha.
South of Chemuyil and north of Tulum is a primitive beach front camp ground called Xcacel (no phone). It offers good swimming behind the reef and a sink-hole with underwater rock formations in crystal- clear water.
Xcacel is another camper's paradise, with spread- out locations under palm trees on a marvellous sparkling white beach. It has a small restaurant, bathrooms and showers. Trailers and tenters seem equally at home here as there is no electricity.
This camp ground also participates in the turtle protection program when the turtles come ashore to lay their eggs in October. If you're camping, hang a hammock here; it's a good deal.