Mayan Ruins
The Mayans' extraordinary architectural and cultural accomplishments rival those of the world's other great civilizations, and Mayan history is inseparable from that of the New World.
They had a precise calendar and written language, plotted the movements of the planets, and mastered pottery and weaving. Our cultural and archaeological odyssey will take us to the finest Mayan ruins along the Yucatan.
For a bunch of old stone buildings, Tulum is a particularly impressive site, perched as it is high on top of limestone cliffs that spill down to the turquoise waters of the Caribbean below. The first time we entered the modest walled city, it took our breath away. El Castillo, a large temple, is the site's biggest structure. Regrettably, it was off limits to climb this last time we were there. But the nearby Temple of the Descending God is accessible. If there are not too many people around it's a wonderful feeling to sit in the sun on the temple's platform with the waves crashing below and imagine what it must have been like years ago. If you time your visit for early morning or late afternoon you'll be blessed with fewer crowds.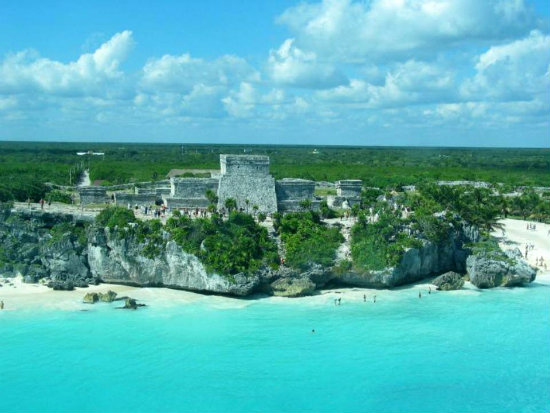 Tulum is not a particularly important city to archeologists. A Late Post-Classic city, the style of architecture is nowhere near the complexity of the Classic period. By that time in history the building arts and stone cutting skills of the Maya had degraded and much use was made of heavy stucco to cover any rough spots. But what Tulum lacks in architectural style it more than makes up for in location. It is now the most visited archeological site in all of Mexico, with bus-loads of tourists coming from Cancun and cruise ships docked at Cozumel or Playa. Even its first tourist, John Lloyd Stephens, American author and adventurer who toured the Yucat n in the early 1840s, was impressed: 'Besides the deep and exciting interest of the ruins themselves, we had around us what we wanted at all the other places, the magnificence of nature…. We had found this one of the most interesting places we had seen in our whole exploration of ruins.'
The walls on three sides enclosing the city may have been defensive, as they average 18 feet thick and are between nine and 15 feet high. Entrance is via one of the original five tunnels through the wall. Guides are available outside at the new visitor's center that's complete with snack bars and gift shops. A troop of brightly dressed Los Olmecas Ototonacos de Veracruz Native Americans perform ceremonial twirling dances while hanging upside-down from a huge flagpole. (Nothing to do with Tulum or the Maya, but entertaining and worth the US $1 tip they ask for.) A word of caution if you're driving a car: The parking lot has odd-angled stone walls that, if you're not careful, you can scrape the body as you maneuver.